Home » Baja Directory » Puerto Nuevo Activities
If you like all things water than you will find amazing activities located around the Lobster Village of Puerto Nuevo. For more information such as accommodations or to book a hotel in Baja California visit our destination page. The activities listed below are broken up in the cities in which they are located.
Ensenada Activities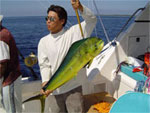 Fishing
Ensenada offers amazing fishing opportunities just of of the Punta Banda Peninsula and even south. Find excellent bottom fishing such as rock cod, lincod, as well as yellow tail. If you get out into the deeper water expect blue marlin and sailfish. You will need to get a Mexican Fishing Licence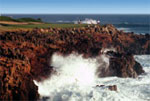 Golfing
Ensenada offers 2 championship golf courses. Both courses are located around 70 miles south of the US border. Bajamar Golf Resort - World-class course located 15 minutes north of Ensenada. Tel: (6) 155-0151. Baja Country Club - Local golf course located on Highway 1 towards Estero Beach, Tel: (6) 154-0220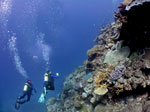 Scuba Diving
Ensenada offers exceptional scuba and snorkeling around the Punta Banda Peninsula and Todos Santos Island. The Bufadora at the tip of the Punta Banda Peninsula benefits from a deep submarine canyon that extends from the Continental Shelf into the bay of Ensenada.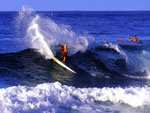 Surfing in Baja - Ensenada
La Fonda is a fun beach break that can handle almost any swell. Salsipuedes is good break, however the road to salsipuedes is hard to navigate. San Miguel is a racy right reef break. San Miguel tends to throw off the hard local vibe so if you are new to surfing you might want to avoid this place...More Surfing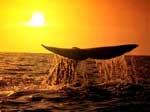 Whale Watching
Every winter, the grey whale heads 6,000 miles south to the warmer lagoons of Baja in January, February and March. Their main reason for heading south is to mate and give birth in the protected shallow lagoons in Baja. Ensenada is a good place to view whales. Visit our Baja Tour Page for more info.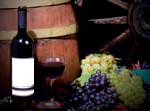 Wine Tasting
Just outside of Ensenada along Highway 3 is several highend wineries. This area of Mexico has been called "the new Napa Valley" because of its untapped potential as a great wine region. The Mission Santo Tomas de Aquino was the first winery in Baja in 1791. There are daily tours and tasting. Visit our Baja Tour Page for more info.
Rosarito Activities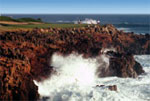 Golfing
Golfing is available at Real Del Mar golf course, Opened in 1992, it was carved out of three canyons along the Pacific. Twelve of the holes have ocean views to the Coronado Islands. Bermuda greens, rarely seen in the San Diego area, are used on the short layout. Tel: (664) 631-2125.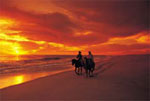 Horseback Riding
Horseback riding for all levels of ability is available at several stables in the Rosarito area. Guided tours on rented horses are available at some hotels. Venture a little ways out of Rosarito and you will find private rides for all levels of rider on either Western or English saddles.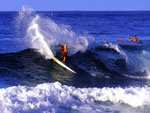 Baja Surfing - In Rosarito
Some of the better breaks around Puerto Nuevo are Calafia - This is a right point break that peels for 200 yards on an excellent day. K-38 is another popular break near Puerto Nuevo. K-38 is a right reef break. K-38 gets extremely crowded even on bad days...More Surfing
Tijuana Activities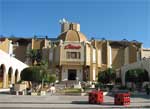 Agua Caliente Race Track
Located in the Plaza Pueblo Amigo, The Agua Caliente Casino and Hotel opened in June 1928 in the city of Tijuana, Baja California. Caliente Race track is a legal sports book and geyhound wagering establishment. At Agua Caliente you can bet on anything similar to Las Vegas.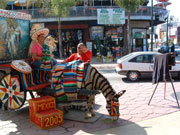 Avenida Revolución
Revolution Avenue is the main shopping area in Tijuana. It is dotted with hundreds of stores and shops selling everything from blankets to fine leather. The name of the game here is nogotiate. This area gets very crowded and merchants can be annoying at times.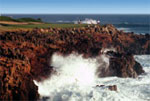 Golfing
Tijuana only has one course that is located in the city. The Club Campestre Tijuana is a private club located near Caliente Greyhound race track. Just outside of the city is Baja Mar. Baja Mar is known as the best golf resort in the northwest of Mexico, you will find lakes, fairways and greens carved out of the Baja hills and cliffs of the Pacific Ocean.