Home » Baja Directory » Puerto Nuevo Accommodations » Rosarito Beach Hotel
ROSARITO BEACH HOTEL
Rosarito Beach Hotel in Rosarito
Welcome to one of Bajas most famous landmarks, the legendary Rosarito Beach Hotel. Since it first opened its doors in 1925, millions of visitors as well as movie stars, presidents and international royalty have been attracted to it's romantic old world charm and loving hospitality. Its popularity spawned the birth of the city of Rosarito Beach, just 30 miles south of San Diego. The Hotel has been at the heart of the popular resort destination that grew up around it. Today, as the legendary hotel becomes a 500-room full-service resort, it remains the region's most popular hotel and a must-see destination for the city's more than one-million visitors a year. With its grandeur, world-class restaurants, entertainment, lodging options and activities, it is easy to see why.
Dining at Rosarito Beach Hotel
At the Rosarito Beach Hotel, your dining and entertainment options are as extensive as the coastline that stretches dramatically to our north and south. Enjoy a delicious meal in the warm Old World setting of the Azteca, dine in European gourmet elegance in Chabert's, or sample a traditional Mexican buffet at a folkloric ballet show in the Salon Mexicano. Then end your night with a cocktail in our historic piano or Beachcomber bars, Rosa & Rita saloon or looking out over the star-lit sea from our dramatic 17th-floor rooftop lounge.
Rosarito Beach Hotel Wedding
Their experienced wedding coordinator will make sure your special day reflects your personal style. Wedding packages and menus are designed to pamper you and your guests for a truly flawless event. Plan your special day at the historic Rosarito Beach Hotel which has hosted dignitaries such as Hollywood stars and foreign royalty over 80 years. Enjoy our old-world Mexico charm, beautiful beaches and warm atmosphere. Close to San Diego and all transportation, the Rosarito Beach Hotel is the perfect venue for your wedding.

Hotel Information
Rosarito Beach Hotel
Blvd. Benito Juarez #31
Rosarito, B.C. Mexico 22710
US Reservations: 1 (866) ROSARITO
US: 011.52.661.612.0144
Mex: 661.612.0144
Website
Amenities
Ocean View Rooms
Full Service Spa
Pool
Restaurant and Bar
Ammenities
Ocean view rooms, pool,
jacuzzi, restaurant, bar, activities,
tours, full service spa
Service and Fees
Rating: ***
Rooms: 513 Rooms
Children: Yes
Pets: No
Cost: $$ to $$$$
Driving Map to Rosarito Beach Hotel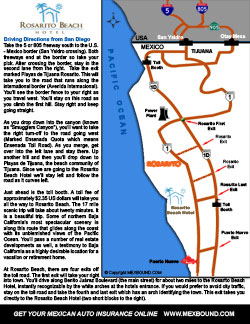 Click to View Driving Map to Rosarito Beach Hotel